Gezellig!
English information about CMD Amsterdam
Introduction
Communication and Multimedia Design Amsterdam puts design at the core of its program. It sets out to help students learn how to think and act like designers, and aims to give its interactive media design graduates the best possible preparation for today's – and tomorrow's – professional practice. At CMD Amsterdam students will learn to use 'design thinking and doing' to develop interactive products and services such as websites, mobile sites, mobile apps, web apps and interactive installations.
Throughout the study, students have the opportunity to follow their personal interests in one of the five profiles we offer: interaction design, visual interface design, frontend development, project management and content management.
Visual Interface Design
100%
Frontend Development
100%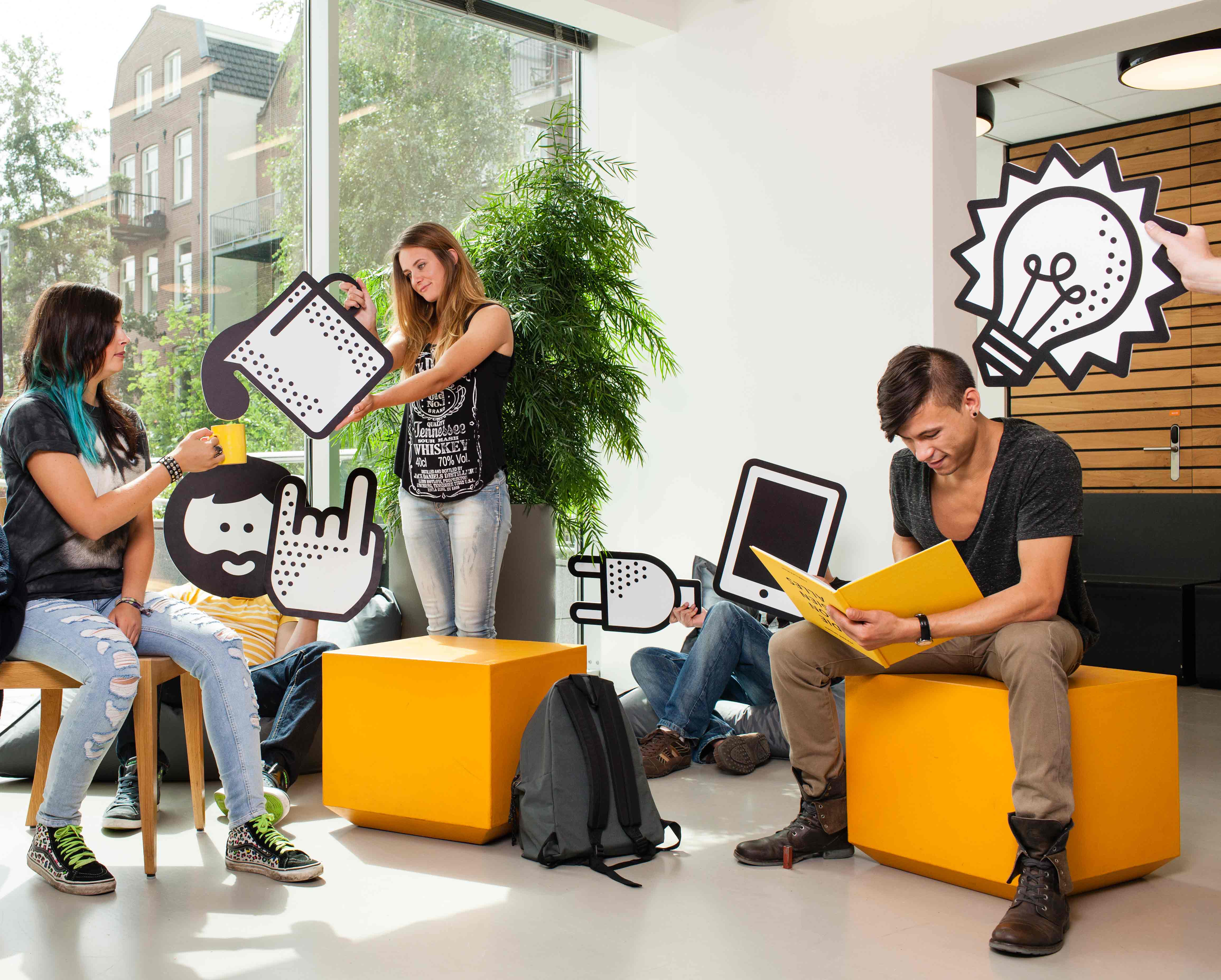 We believe in a 'human-centered' design process, and we anticipate an increasingly important role for designers who understand the human side of interactive media. In our vision, the human-centered approach involves studying people in their social and societal context, and then building interactive media solutions based on these findings.
It is important to see how people behave the moment they come into contact with interactive media, and to incorporate this into the design process. For us, applied research and prototyping are essential parts of this design approach, and we encourage students to become masters in this.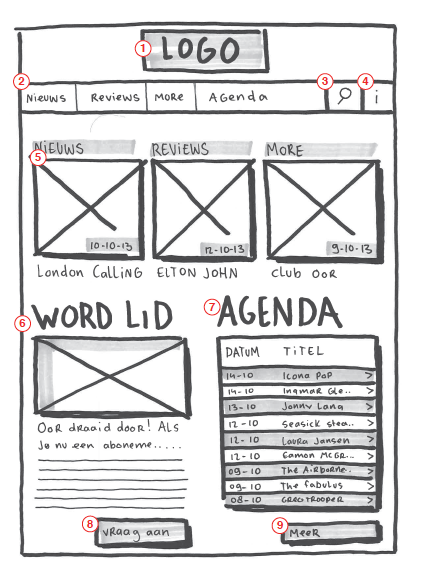 Study program
The study program is divided into three phases: the first year, a 2-year main phase and a 1-year graduation phase. The first year is the same for all students: you get acquainted with the broad professional domain of interactive media and you work on three real-life projects. The second and third study years go deeper into digital design, digital development, online strategies and general socio-cultural education. In the graduation year, students further develop themselves as starting CMD professionals through an intensive internship.
To graduate, the student devises and builds an application for a group of users based on thorough research. Alongside study subjects the assigned Study Career Coach gives the student guidance up until to the graduation year.
Have an app idea? Draw it on paper and use POP to make it running on your phone! The workflow is ridiculously simple: 1. Design on Paper
2. Take Pictures
3. Link & Play"

Exchange programme
International students that would like to study at CMD Amsterdam are very welcome! We offer two international minors (one-semester programmes) in our second (spring) semester: Design Thinking and Doing (DT&D) and User Experience Design (UXD). See this brochure for more information. At our friends from the MediaLAB Amsterdam, CMD students work together with international students on interactive media projects. This semester in the MediaLAB Amsterdam counts for 30 ECTS and is aimed at graduating students (internship or project).
SEE WEBSITE MEDIALAB AMSTERDAM
International Student Network
Should you decide to come to Amsterdam and study here, the International Student Network (ISN) can be a good start to discover the city. The aim of ISN is to foster social and cultural integration of international students in Amsterdam. They try to achieve this by organizing introduction days, parties, 'borrels', weekend trips, excursions and other cultural activities. Furthermore, there is a coach system to facilitate contact with Dutch students and the city. Students are informed with the magazine Insiders and a newsletter.
CONTACT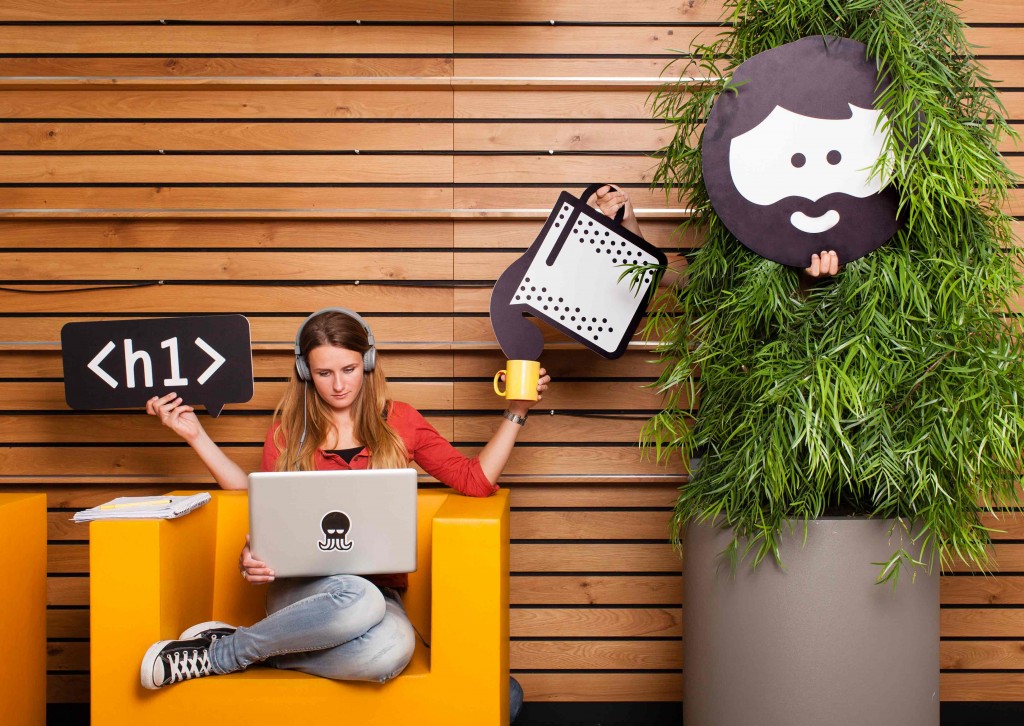 Communication and Multimedia Design Amsterdam
Hogeschool van Amsterdam
Theo Thijssen building | map
Wibautstraat 2-4 | 1091 GM | Amsterdam
+ 31 20 595 1855 | info-cmd@hva.nl
You can contact us by completing this form or by giving us a call. For specific questions, one of our colleagues below can be contacted too.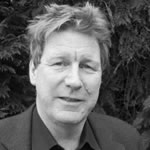 Harry Zengerink
Program Manager
+31 (0) 20 595 4871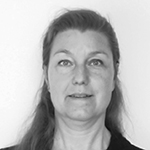 Marielle Beekman
Head of Administration
+31 (0) 20 595 1855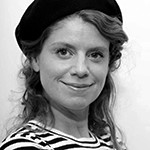 Anne-Marleen Olthof
Internship Coordinator
+31 (0) 20 595 4883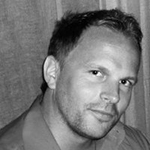 Mattijs Blekemolen
International Office
+31 (0) 20 595 1818